Product Description
Mixing Equipment for Vegetable Powder
Product Application and Features:
1. Mixing barrel moves in multiple directions, there is no centrifugal force on the material, as well as no phenomena of gravity segregation, delaminating and accumulation of materials so that the mixing rate can be up to 99.9 percent for the materials with big difference in terms of specific gravity. Therefore, this salt mixing machine is an ideal product current compare with other various mixers.
2. Vegetable Powder Mixing Equipment have high loading rate (max. loading 80 percent)
3.The 3-D Powder Mixer are suitable for mixing powder and granulate materials in pharmaceutical, chemical, food stuff, light industry, electronic, machinery, mining, metallurgical and national defense industrial, featuring high evenness mixing.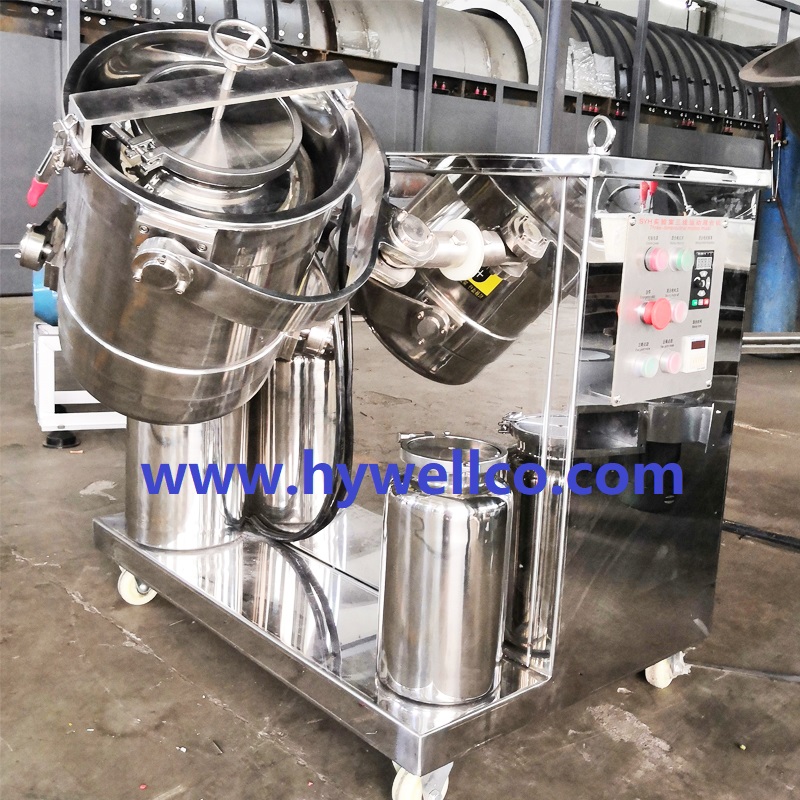 About Hywell Introduce:
Hywell is professional manufacturer for drying machine, mixing machine, granulating machine and grinding machine.From dryer, mixer to granulator, from unit machine to production line, we have them all. Hywell is a Chinese supplier of industrial dryer, mixer, granulator. our flagship products include the hot air dryer, microwave dryer, vacuum dryer, one dimensional mixer, two dimensional mixer, three dimensional mixer, and granulator and so on.......
Product Characteristic:
1. Vegetable Powder Mixing Equipment possesses high mixing uniformity.
2. 3-D Powder Mixer is powder and granules mixing equipment,
3. The process of manufacturing Dried Potato Powder Mixer has achieved GMP.
4. Our 3-D Powder Mixer has been approved CE.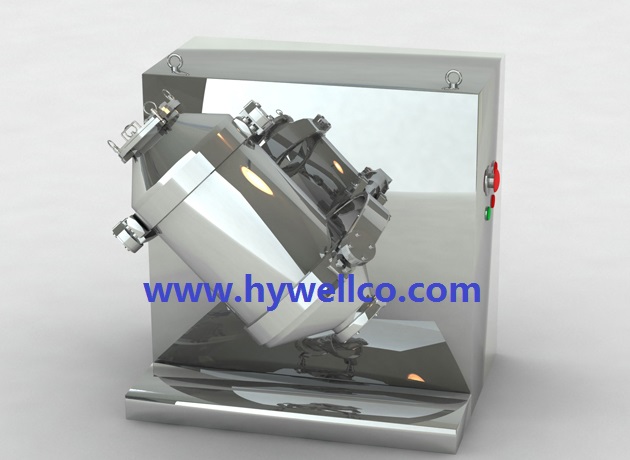 | | | | | | | | |
| --- | --- | --- | --- | --- | --- | --- | --- |
| Model | barrel capacity(L) | max loading capacity(L) | max loading weight(Kg) | speed of driving shaft(r/min) | motor power(kw) | overall dimensions(mm) | total weight |
| SYH-1 | 1 | 0.8 | 0.4 | 15-30 | 0.12 | 500x600x600 | 50 |
| SYH-5 | 5 | 4 | 2 | 15-30 | 0.25 | 600x1000x1000 | 150 |
| SYH-15 | 15 | 12 | 6 | 8-15 | 0.37 | 700x1000x700 | 200 |
| SYH-50 | 50 | 40 | 20 | 8-15 | 1.1 | 1000x1400x1200 | 300 |
| SYH-100 | 100 | 80 | 40 | 8-15 | 1.5 | 1200x1700x1500 | 500 |
| SYH-200 | 200 | 160 | 80 | 8-15 | 2.2 | 1400x1800x1600 | 800 |
| SYH-400 | 400 | 320 | 160 | 8-15 | 4 | 1800x2100x1950 | 1200 |
| SYH-600 | 600 | 480 | 240 | 8-15 | 5.5 | 1900x2100x2250 | 1500 |
| SYH-800 | 800 | 640 | 320 | 8-15 | 7.5 | 2600X2380X2500 | 2000 |